Binary Options Bonus
Before you accept any bonus offer, always check the fine print to find out what the offer actually entails. Regrettably, some binary option sites offer sign-up bonuses that are more similar to online casino sign-up bonuses than securities trading sign-up bonuses.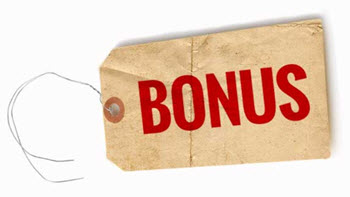 If you check out the terms and conditions, you might for instance find out that if you deposit $500 into your account and accept that $500 sign-up bonus, your account will be locked from withdrawals until you have made many thousand dollars worth of trading in your account. So if you make a few good trades early on and manage to turn the $1,000 in your account into $3,000 you wont be able to withdraw any money because you haven't traded enough in the account yet. Your wont even be able to withdraw the $500 you deposited, because when you agreed to the T&C of the bonus offer, you agreed to lock your own money into your account.
This is why it is very important to check the terms and conditions of any offer – not just sign-up bonus offers, but other bonus offers as well. There are quite a few trading benefits and perks that you might want to turn down because of the strings attached to them.
When you start looking at the fine print, you might notice that in some cases, that binary option broker with the $50 welcome bonus is actually more generous and more suitable for you than the broker who is trying to lure you in with a $2,000 welcome bonus. How can that be? Well, a $50 bonus with good terms and conditions can be better than a $2,000 bonus that will keep your account frozen for months since you are a small-scale trader that doesn't have a huge turnover in your trading account.
Don't let the bonus determine with whom you sign up
Never let the size of the sign-up bonus determine which binary option broker you pick. There are reputable binary option brokers that have good and honest bonus offers for new clients, but even in such cases the bonus offer should be the last thing you look at when you evaluate the broker. Other factors than the size of the bonus will be much more important for your experience trading binary options online. A welcome bonus should just be icing on the cake – not the reason why you pick a specific brokers.
Cyprus clamps down on bonuses
Cyprus has put their foot down when it comes to binary option bonuses, since so many binary option sites were using them in a sneaky way.
Many binary option vendors are based in Cyprus and regulated by Cyprus Securities and Exchange Commission (CySEC). Cyprus was one of the first nations to classify binary options as securities and require binary option vendors to adhere to the regulatory framework applicable for companies within the securities field.
A binary option vendor based in Cyprus must also comply with European Union law, since Cyprus is a part of the EU. In this context, the application of EU:s "Markets in Financial Instruments Directive (MiFID)" to the marketing and sale of speculative products to retail clients is especially important.
In late 2016, CySEC issued a circular where they clarified CySEC:s position regarding binary option bonuses.
"CIFs must avoid the practice of offering bonuses that are designed to incentivise retail clients to trade in complex speculative products such as CFDs, binary options and rolling spot forex as it is unlikely that a firm offering such bonuses could demonstrate that it is acting honestly, fairly and professionally and in the best interests of its retail clients [article 36(1) of the Investment Services and Activities and Regulated Markets Law, 'the Law']."
CySEC anticipates that CIFs will not launch any new bonus schemes to retail clients from now and onwards and let the existing ones lapse or expire or in any way cease to exist.
All CIFs are requested to declare to CySEC whether they are offering such bonuses by completing and submitting the attached table to the electronic address supervision@cysec.gov.cy by December 14, 2016. In case where a CIF does not offer such bonuses, it should also fill in and send the attached table, indicating 'N/A'.
As for the offering of other trading benefits, CIFs must notify CySEC of any new type of trading benefits that intend to offer to retail clients. It is provided that the notification will take place before the trading benefit is launched to the market. CIFs must be able to demonstrate to CySEC that such trading benefit is not designed to encourage behaviors that are not in the best interests of clients."